Cubby NY Premiere October 25
CUBBY UK PREMIERE
OCT 10/12
IRIS PRIZE FESTIVAL, Cardiff, Wales
Cubby will compete for BEST PERFORMANCE IN A MALE ROLE (Mark Blane), BEST FEATURE FILM.
Cubby is the NY Centerpiece screening at NEWFEST
"With a bold voice reminiscent of heyday 90s independent cinema, CUBBY gives a whole new meaning to "adventures in babysitting." Written and co-directed by breakout star Mark Blane and shot in crisp 16mm… a heartwarming performance by Emmy Award-nominee Patricia Richardson (HOME IMPROVEMENT). CUBBY is sure to make you reconnect with your inner child and remind you why you fell in love with this crazy city."
Read more here.
"One of the sweetest films in the festival, Cubby is a coming-of-age story for late twenty-somethings. A fantastical and often hallucinogenic story of finding yourself when you have no idea where you're even going.
…it's actually one of the most relatable films of the year!"
Read more here.
When and where? Sunday 4th August, 8:45pm, Light House Cinema
TICKETS ARE ON STANDBY FOR THE OUTFEST SCREENING ON JULY 19 at 7:30
For tickets to JULY 21, BUY NOW.
Q&A's at both screenings.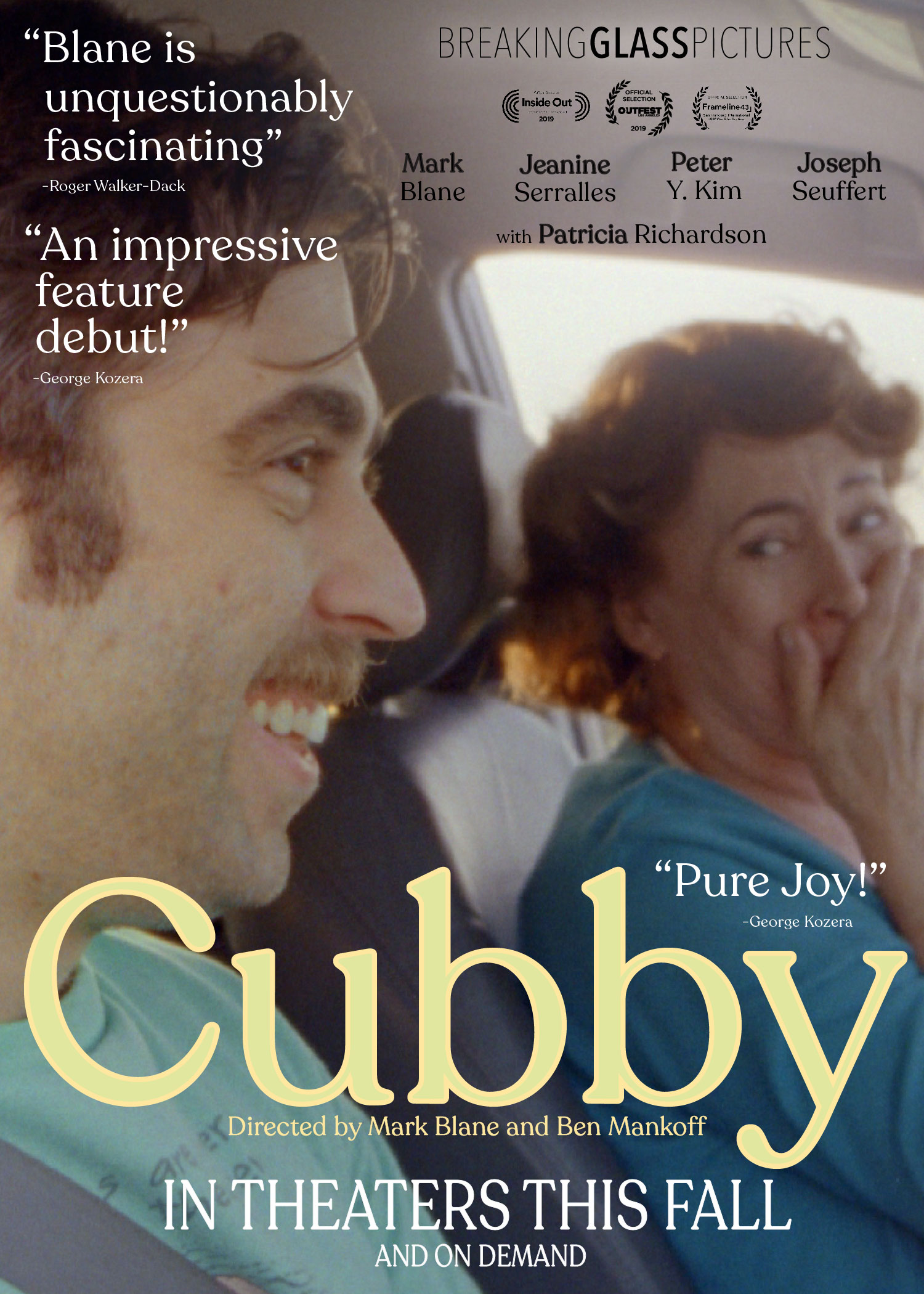 CUBBY IN THEATERS AND ON DEMAND THIS FALL 2019
Breaking News: Check out the full article on Broadway World.com
Breaking Glass Snuggles Up To Indie Gem CUBBY
Breaking Glass Pictures has acquired North American rights to the eccentric, lovable LGBTQ feature CUBBY.Breaking Glass acquired rights to the film in April in a deal negotiated between Breaking Glass CEO Rich Wolff and Jordan Mattos, Managing Director of Aspect Ratio Films. CUBBY will open theatrically in New York City, followed by a DVD & VOD…
In this coming of age dramedy shot on 16mm, a misanthropic gay artist finds hope & self-discipline through his friendship with a sensitive 6 year old, Milo, and the adult superhero 'Leather-Man' who is conjured from a psychedelic cupcake.
International Premiere: Inside Out Toronto
World Premiere - Torino April 25
International Feature Film Competition
Follow Us on Instagram @CubbyMovie2019
CUBBY is an IFP Narrative Lab Alum from 2017 and IFP Film Week Project.
Special thanks to Zach Mandinach, Amy Dotson, Milton Tabbot and Gabriele Capolino